Pumps - specifications
Pumps - specification
STUFFING-BOX-LESS TANKS - ZVS SERIES
The stuffing-box-less tanks ZVS as intended for pumping agids, lyes, thin muds and all other wage liquids up to the temperature 150° C with the content of solid substances up to 30% of weight and the size of grain up to 7 mm. The pumps are suitable for pumping drinking water and food industry. The pumps are not self-suction pumps.
Construction:
The vertical centrifugal pumps powered with flange-mounted electromotor. The hydraulic part of the pump consists of circulating boiler, delivery body and balancing tank. The rotor is placed in bearing body in two anti-friction bearings. The construction is stuffing-box-less - during operation pumped liquid is sealed in a hydrodynamic way, at standstill the pump does not seal. The hydraulic part is connected with balancing tank that serves possible keeping pumped liquid during operation or for checking floding of impellor before starting operation.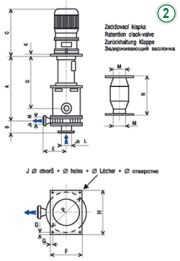 Nominal lightness on delivery of DN 40 to DN 125. The connecting dimensions are PN6. The material variant - chromium-nickel-molybdenum stell. Other material finish upon agreement.
Advantages:
stuffing-box-less construction and bearing location enable failure-free operation
hydrodynamic princople of sealing and construction of pump enable operation without dripping pumped liquid
minimum impact on environment
operation at no load does not cause demage or wear and tear of pump
Delivery extent:
The pumps are delivered with flange-mounted electro-motors, normal design for tension 380 V, 50 Hz
The manufacturer will deliver spare parts according to the requirements pursuant to Table No.1
The manufacturer provide service and consultancy service
Table for picture 2
ZVS - 40
ZVS - 50
ZVS - 80
ZVS - 125
A
564
715
805
930
B
65
105
130
183
C
570
600
700
800
D
450
585
675
770
E
210
260
330
420
F
300
350
420
450
G
25
25
25
30
I
430
560
660
750
J
15
15
15
22
K
14
16
18
125/150
M/L
40/50
50/65
80/105
125/150
N
150
180
270
420
P
270
360
415
520
Weight without
electro-motor [kg]
85
155
240
420
Table for picture 1

| | |
| --- | --- |
| 10 | Electro-motor |
| 20 | Driving connecting piece |
| 30 | Connecting piece driven |
| 40 | Adaptor |
| 50 | Lid |
| 60 | Base plate |
| 70 | Bearing body |
| 80 | Balancing tank |
| 90 | Level indicator |
| 100 | Delivery body |
| 110 | Delivery body seal |
| 120 | Impellor with shaft |
Table of spare parts cataloque No. for ordering

| | | | | |
| --- | --- | --- | --- | --- |
| | ZVS - 40 | ZVS - 50 | ZVS - 80 | ZVS - 125 |
| 10 | 1040 | 1050 | 1080 | 10125 |
| 20 | 2040 | 2050 | 2080 | 20125 |
| 30 | 3040 | 3050 | 3080 | 30125 |
| 40 | 4040 | 4050 | 4080 | 40125 |
| 50 | 5040 | 5050 | 5080 | 50125 |
| 60 | 6040 | 6050 | 6080 | 60125 |
| 70 | 7040 | 7050 | 7080 | 70125 |
| 80 | 8040 | 8050 | 8080 | 80125 |
| 90 | 9040 | 9050 | 9080 | 90125 |
| 100 | 10040* | 10050* | 10080* | 100125* |
| 110 | 11040 | 11050 | 11080 | 110125 |
| 120 | 12040* | 12050* | 12080* | 120125* |
*) spare parts can be equipped with weld deposit from hard metal - identification /R/
The example of ordering the delivery body ZVS 40 equipped with hard metal: 10040 R
Capacibility graph